Testimonials of our happy customers
TRULY The PERFECT Pup!!
We picked up our Baby Chihuahua early this year, my has she grown into a BEAUTIFUL dog! im sure you remember her! Here she is today probably done growing at about 4 pounds it's DAISY MAE!
Brett and Lynn Steinbeck
Awesome People!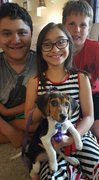 My 13-week old beagle adopted me on June 6, 2016. Christine and her son, Chris, were just awesome. The adoption process was fast, comprehensible and simply outstanding. Chris gave us more toys and an extra collar for no extra cost. He even placed the collar around my puppy's neck for us. Christine helped my daughter and I get all the things we needed inside my car. I am so happy with my quadruped son!!!! God bless the staff and the company!!!
Cheryl E
Love the Perfect Pup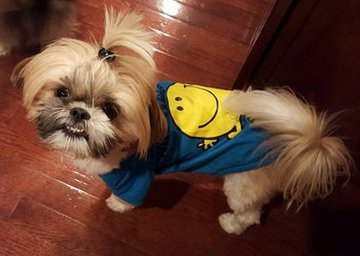 I absolutely love this store! Everytime you go in the employees are very friendly and knowledgeable. I got my Shih Tzu here about 3 years ago and he is perfect :) I tell all my family and friends about this place. I would definitely buy again from here.
Alexa P
Indy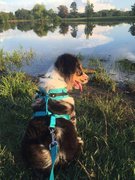 I got Indy almost one year ago now at The Perfect Pup. He's sweet, beautiful, smart, & very well behaved. The staff was very friendly when we picked him up and very informative. Thank you for connecting me with my best buddy. He's a great dog and I appreciate how helpful you were!
Jess
Love my Fur Baby!!!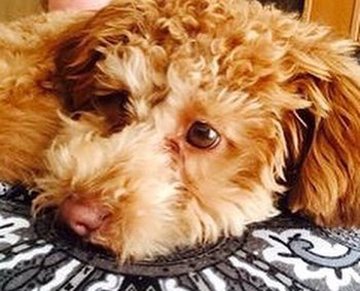 I went into the Perfect Pup one day to look at a puppy I saw on the website. I walked around and fell madly in love with a puppy that I had no intentions of even looking at. I picked him up and he stole my heart. He is perfect! I've had him now for 9 months and he's enriched my life so much. I've had dogs in the past but he is my first puppy. A lot to learn in the beginning and at times have tested my patience but the love he has for me and my family is priceless. The Perfect Pup was a huge help in the beginning because I felt like I wasn't doing the right thing. My experience was truly an amazing one. When the time is right, the Perfect Pup will have our business again! Thank you so much! Fozzi is so happy with us and we are so happy with him!
Angel, Selina and Fozzi A
---
All Testimonials
The Perfect Pup (pun intended!)

My little sister and her friends used to go into this store all the time to look at all the puppies. One weekend when I was home, she forced me to come with her to see this one adorable teacup Yorkie. I wasn't planning on buying a puppy anytime soon but the second I saw him I fell in love. I stood in this store for OVER 2 hours trying to put him down or make the decision to buy him. The employees were fabulous and attentive my entire 2 hours of being there! They sat with me while I made my decision and went through the responsibilities and time commitment of having a new puppy. They were sincerely concerned with the well being of the puppy versus the chance to make a sale, which is an important quality because it shows how much they care about the dogs they have! In the end, I ended up buying him and I have never made a better decision. He has the most amazing and energetic personality, not to mention he is the cutest animal I have ever seen. After I bought him, the employee who sold me my puppy, Reese, gave me his business card and told me to call him at any point in time if I had any questions about him (regardless of what they were). It was nice to know I had the support of the employees at the Perfect Pup there to answer questions for me if I needed help, as this was a very big and impulse decision for me! And I now have Reese who is the most important thing in my life!!

Kristin

The best pet store ever

This is not your typical pet store where the puppies are locked up in glass/wire cages. The puppies are constantly being tended to and played with. We still bring our dog back for visits (and bathing). Everyone who works here is extremely friendly, knowledgeable, and caring about the welfare of their puppies. The puppies are carefully chosen from breeders and they don't accept puppies from puppy mills. We would (and have) recommended The Perfect Pup to everyone.

Julie S

Our New Family Friend

My mom just purchased a tea cup Yorkie at The Perfect Pup. I was skeptical of my mom buying a dog from a pet store because I have heard that pet stores buy puppies from puppy mills and the puppies usually end up sick and dying. I was very comfortable with the fact that my mom bought a pup from The Perfect Pup. They were extremely friendly and attentive, even though the store was packed on a Saturday afternoon. They answered every question to my mom and I's satisfaction. It is a family owned and operated business which made us feel really comfortable because if there were anything wrong with the pup, we didn't have to go through corporate hurdles. A three year guarantee came with the pup which I thought was pretty sufficient because you can most likely see if a pup is going to have problems within that time frame. We also received the name and phone number of the breeder from which they purchased the pup. AKC membership came with the price of the dog and they set this membership up at the store for you so that you did not need to turn anything in. Christine, the owner's mom and vet tech, was absolutely fabulous in teaching us how to train the pup. She had a very deep love for pets and wanted to make sure that we knew what to do if there were any problems. Jake, a close family friend, was so sweet and helped us right when we walked in the door until we checked out. He made sure that every i was dotted and t was crossed. I usually do not make a testimonial about a business; however, this business was not what I expected it to be and it was a very pleasant and fun experience!! If you want to buy a puppy and have the complete satisfaction and worry-free environment that we had, GO TO THE PERFECT PUP!!!!

Melissa R

Truely Perfect Pup!!

The staff is hands down the best there is when it comes to purchasing a new part of your family! They are knowledgeable and easy to talk to! The store is always clean, the services are always impeccable, and the puppies are always perfect! Thank you!

Scott, Jessica, Vivian, and Tonka

I love my puppy!

I love my puppy so much! The store is absolutely amazing, and this puppy is the most well behaved I've ever had. Great service and a great place to buy a puppy!

Libby and Romeo :)

Staff is so helpful and knowledgeable!

The staff at this store really knows their stuff, all breeds included. They are very honest and helpful when assisting you with finding the right pup for your lifetstyle and living situation. No pressure, ever!

Carole B

Love at first sight

My fiance and I have been in search of our - Perfect Pup - We're from the Wood Dale area and have looked at places all in our area never finding even the store we would want to purchase from let alone the puppy we wanted. When you go to a lot of these other places the dogs are kept in small cages, hot environments - just not a good vibe from these places. Their dogs also seemed to be very aggressive (maybe a product of a puppy mill??) The second we walked into The Perfect Pup Store we were happy. All the dogs were clean, happy, and so friendly!! The staff is just waiting to give you information but never felt pushy about getting you to buy. The dogs are continuously pet & played with making for a social dog. We haven't purchased a puppy as of yet... Waiting to hear about a Brindle French Bulldog... but you can bet we will be buying our little guy here! Thank you ~

Greg & Kristin L

Awesome

This store is the BEST place to show your kids friends family anybody puppies. Keep doing what your doing!

A

Andrew S

I purchased my first pug october 2011 - 12 week old baby boy, precious and so well behaved! He has the perfect personality and I believe that it has a lot to do with the environment he was in. The store is spotless, plenty of room for the puppies to roam and lots and lots of love from the owners to the employees! I have as of 4/29/2012 purchased my second pug from them. She is adorable, well behaved and it shows that she was also very much loved while at the perfect pup store. Very intelligent and loving people work here and it shows their hearts beat only for the puppies they sell. I am so incredibly happy with the store, people and my babies! If you are ever interested in purchasing a puppy, please try them first, you will not regret it.

Pauly & Portia's mommy

Best pup ever

We got our dog Lila here almost two years ago, best puppy ever, very helpful, and amazing'

Andrew S

Best Puppy Store EVER!!

The Perfect Pup is the best place to go when looking for a new puppy! The staff is extremely friendly, and VERY helpful! The puppies are very well cared for while there. I purchased my boxer pup from them, and he is the best addition to our family! And with the puppy package available, you can get everything you need from just one place. Not to mention, the groomer at The Perfect Pup...She is fabulous!! She is wonderful with all types of dogs. My dogs love going to see her. All in all, this is the BEST place to go when looking for puppy with all their needs taken care of.

Jackie S. and Family

Thank you

We purchased our bull mastiff from them and he has a wonderful disposition, markings and very lovable. I would purchase another puppy from them. It is easy to recommend The Perfect Pup store as people ask all the time where we got him!

Sir Kodiak